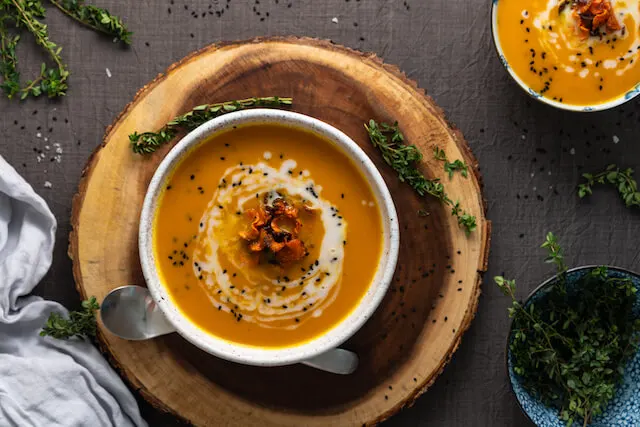 Carrot, Ginger and Turmeric Soup with Sweet and Spicy Carrot Chips
Prep Time:
10 minutes
Cook Time:
30 minutes
Yield:
2 entrée servings or 4 appetizer portions
Ingredients
For the Soup
1 tablespoon olive oil
1 medium yellow onion, diced
3 cloves garlic, finely minced
1-inch piece of ginger, finely grated on a microplane
2-inch piece of turmeric, finely grated on a microplane
4 large carrots, peeled and cut into 1-inch pieces
1 teaspoon fresh thyme, chopped
4 cups vegetable stock
Juice of half a lemon
Coconut milk, for garnish
For the Chips
2 large carrots, sliced very thin on a mandolin
1/2 tablespoon coconut oil, melted
1/4 teaspoon salt
1/2 teaspoon ground pepper
1/4-1/2 teaspoon cayenne pepper, to taste
Instructions
For the Soup
Place a medium stockpot over medium high heat and add olive oil. Add onions and garlic and sauté until translucent, approximately 3 minutes. Add ginger and turmeric and sauté for another 2 minutes. Season with salt and pepper.
Add carrots and thyme and cover with broth. Bring to a boil and reduce heat. Simmer for 20-25 minutes until carrots are thoroughly tender.
Use an immersion blender to puree soup until smooth. Stir in lemon juice. Taste and season with salt and pepper.
Garnish with a swirl of coconut milk and carrot chips. Reserve remaining coconut milk for another recipe.
For the Chips
Preheat oven to 425oF and line a baking sheet with parchment paper.
Add sliced carrots to a bowl, drizzle with coconut oil, and season with salt, pepper, and cayenne.
Transfer to the baking sheet and arrange in a single layer.
Bake for 10-12 minutes, watching carefully.
Remove from oven and serve immediately atop soup.